Industrial gear oil specifications are evolving at a faster pace than ever before. Here we look at the importance of OEM specifications for industrial gear oils and take a closer look at the Flender specification.
Industrial gearboxes continue to play a vital role in keeping the wheels of industry turning in a whole host of industries across the world, including mining, quarrying, steel making and power generation to name just a few.
While the function of the industrial gearbox might appear straightforward, namely to change the speed of the input energy and increase the torque provided to the application required, the importance of ensuring it operates efficiently and tirelessly throughout its lifetime cannot be overstated. Effective operation enables increased production efficiencies and lower operating costs, while gearbox failure can lead to a total shutdown in production, lost output, lost revenues and even lost contracts.
Industrial gearboxes face a wide range of challenges such as particulate contaminant ingress in mining, cement and quarrying applications, or excessive water contamination and water ingress in paper or steel industries. In each case this can cause problems for the lubricant to function properly and in turn adversely affect the efficiency and durability of the industrial gearbox.
Access to industrial gearboxes is also a challenge in some applications, such as wind turbines for power generation. Here the requirement for low maintenance and longevity of components and gear oils can be a main driver in the decision making process.
At the same time, today's industrial gearboxes are smaller, lighter and deliver greater power densities than their predecessors. Increased oil temperatures, higher bearing loads and higher gear teeth loading are all impacting upon the requirements of a modern industrial gear oil (IGO). As a result, IGO specifications are evolving at a faster pace than ever before.
Baseline industry oil standards exist relating to the performance of IGOs, such as AGMA 9005-F16, DIN 51517-3 and ISO 12925-1. Many gearbox original equipment manufacturers (OEMs) often use some or all of these baseline standards in addition to their own specific requirements, resulting in more stringent performance standards for the gear oil.
Flender AS 7300 Specification
Flender GmbH is one of the world's leading suppliers of industrial gearboxes and is regarded by many as driving IGO specifications for gear units. Flender AS 7300 is the company's specification for gear oil and enables an oil marketer to sell an OEM approved IGO, once it has successfully passed Flender's rigorous approval process. O il marketers are then able to promote IGOs that have formally obtained the Flender AS 7300 specification as "Approved". Importantly, this differs to an IGO that may be promoted as "Meets" or "Suitable For", which will not have obtained formal approval and may not deliver the performance requirements demanded by the OEM.
Periodic revisions to specifications are made to ensure approved oils meet the latest performance requirements demanded by the OEM. Flender AS 7300 Revision 16.1 is the latest release which came into effect in March 2020; superseding Revision 16 which was introduced in late 2017. Performance requirements are also segregated by base oil type from API Group I mineral oil up to higher-performing polyalphaolefin (PAO) base oils.
The latest Flender AS 7300 revision has a starting baseline of the European DIN 51517-3, which requires specific basic properties (including viscosity, viscosity index, acid number and pour point) and performance requirements (including foam, demulsibility, steel and copper corrosion, oxidation and anti-wear) to be met.
In order to pass the latest Flender AS 7300 specification, IGOs must also pass a number of additional requirements and tests, including micropitting protection, paint compatibility, seal and sealant compatibility, foam testing and multipass filterability tests. Only oils which successfully pass these performance requirements are regarded as having met the most demanding IGO specification requirements Flender has for its industrial gearboxes today.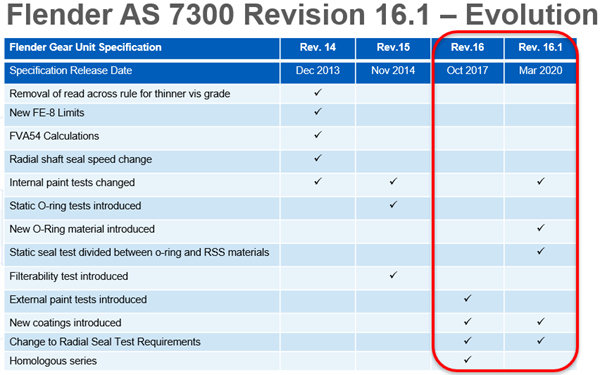 Our View
Modern industrial gearboxes continue to deliver gains in productivity and operational efficiencies; being enabled by higher-performing IGOs. In order to ensure the long-lasting performance of the lubricant many OEMs are increasing the performance requirements for their approved gear unit oils. Higher-performing approved IGOs that have passed the strict and robust requirements demanded by the OEM provide additional confidence and reassurance to all stakeholders in the supply chain. Minimal downtime continues to be a key driver in many industrial gearbox applications. Where this is the case, OEM approved IGOs utilising higher quality PAO base oils alongside robust performance additives are supporting the delivery of this tangible benefit.
For more information on the latest developments in industrial gear oils, please contact your Lubrizol representative.