Jan 30, 2023
Posted by Sreehari Kumar
,

Senior Manager, Commercial Engine Oils (India & Middle East)
The adoption of the TREM Stage-IV and V emission standards for non-road vehicles is leading to a significant market upgrade in engine lubricant performance. This article looks at the challenges and opportunities this represents for lubricant marketers in the region.
In our previous article, we discussed how the adoption of the TREM Stage-IV and V emission standards, which introduce stringent limits on particulate matter (PM), nitrogen oxide (NOx), hydrocarbon (HC), and carbon monoxide (CO), is driving hardware changes in India's Off-Highway sector to meet the emission limit and improve overall system efficiency.
Such hardware changes are expected to result in higher operating temperatures and pressures. The increased use of exhaust gas recirculation (EGR) systems in specific applications and engine sizes will have an impact on the engine lubricant.
This directionally would need the engine oil to deliver higher performance in key areas including:
Wear protection

Piston and liner protection

Soot control

Corrosion control

Oxidation control

Aftertreatment compatibility
To meet the previous Bharat Stage (Trem) III A emission standard, first introduced in 2010, the industry was operating typically on a stipulated baseline performance level of API CF-4 for their farm tractor engine lubricants. However, the performance required to achieve the TREM Stage-IV emission standard means API CF-4 engine lubricants may not be able to deliver the protection and efficiency demanded by original equipment manufacturers (OEMs) on their updated vehicles.
As a result of the TREM Stage-IV emission standard, OEMs are expected to upgrade their specification to API CH-4 or API CI-4 or above performance level for tractor engine oils. This significant upgrade in lubricant performance is relevant to engines directly affected by the Stage IV emission standard, specifically, those with capacities above 50hp (or 37kW). As discussed in our previous article, it is equally relevant across the portfolio since the OEMs are looking to realign their portfolio by adding tractors offering higher torque at lower HP. The 41-50 hp segment would gain share as a result.
The move from API CF-4 to API CH-4, API CI-4 & above performance levels is significant for India's farm tractor application.
Moving to higher performance levels would mean superior wear protection, oxidative stability, deposit control & soot handling performance. The requirements for higher-performing lubricants are critical in enabling OEMs to meet the TREM Stage-IV emission standard.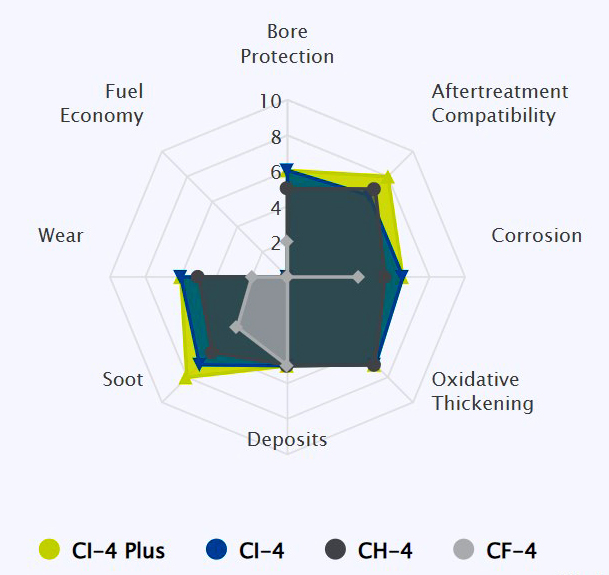 Diagram generated by The Lubrizol Relative Performance tool, highlighting API Performance levels.
For the construction equipment sector, the CEV/TREM Stage-IV standard has necessitated the need for higher specification lubricants compared to the tractor segment. Typically upgrading to API CI-4, API CI-4 Plus performance level delivers a higher level of protection in areas of soot-related viscosity control, wear protection and oxidation performance. This has enabled to provide robust protection for the construction vehicle segment.
In addition to adhering to the TREM Stage-IV standard, OEMs are focused on moving toward more fuel-efficient, lower-viscosity grade lubricants while maintaining the same service interval. This poses significant challenges because of the harsher operating environment to which the engine lubricant is being exposed. Therefore, the requirement for higher quality base oils and rebalanced additive chemistry is needed to address these challenges, enabling the delivery of fuel efficiency benefits without compromising protection.
Looking forward, the TREM Stage-V emission standard will see further upgrades in engine lubricant performance for farm tractors and construction vehicles. To meet stricter PM limits the likely introduction of DPFs will require the use of lubricants containing lower levels of sulphated ash, phosphorous, and sulphur (SAPS).
Our View
The adoption of the Indian TREM Stage-IV and V emission standards for non-road vehicles is leading to a significant market upgrade in engine lubricant performance.
As quality levels rise, the potential to supply robust engine oil for off-highway applications is an exciting opportunity. Oil marketers need to combine careful base stock selection with advanced additive technologies to be confident that they can continue delivering the required hardware protection to meet the new age emission norms.
For more information on the opportunities in the Indian off-highway vehicle market, please contact your Lubrizol representative.