Piston cleanliness is critical in vehicle engines, regardless of their age. Clean pistons generate minimal levels of wear, ensure smooth engine operation, keep emission levels low and help to maintain the fuel efficiency performance set by the original equipment manufacturer (OEM). In contrast, poor piston cleanliness can lead to an increase in deposits, stuck piston rings, engine wear, blow-by, and potentially costly engine failure.
The CEC L-118-21 piston cleanliness test, commonly referred to as the OM471 test, is a new and important diesel lubricant performance requirement within the latest ACEA Heavy Duty Engine Oil Sequences upgrade. The Daimler OM471 test is a replacement for the Daimler OM501LA (CEC L-101-09) test, and is a natural progression as the OM501LA engine test approaches the end of its life.
The introduction of the OM471 test is a significant change, with engine hardware that is more modern and representative of vehicles entering the European market, including Euro VI emission control based on selective catalytic reduction (SCR) technology, asymmetric exhaust gas turbocharger, as well as the use of particulate filter and exhaust gas recirculation (EGR).
Changes in piston design and the widespread adoption of steel pistons actively contribute to reducing the levels of carbon dioxide produced by engines. Higher top ring designs, smaller crevice volumes and hollow piston construction mean the engine lubricant is subjected to significantly higher temperatures.
The OM471 test uses the Daimler 12.8 litre in-line 6-cylinder engine with steel pistons, delivering greater power and greater torque than the OM501LA. With an overall test duration of 600 hours, twice the duration of the OM501LA test it is replacing, this is a severe test for the engine lubricant.
As the engine used in the OM471 test is significantly more powerful than the hardware used in the OM501LA test, the engine lubricant has to demonstrate strong performance in hotter and more severe operating conditions. Overall piston cleanliness and ring sticking are measured with key rating areas including the piston lands, piston grooves and piston undercrown.
The OM471 piston cleanliness test is included in both the ACEA E8 and ACEA E4 categories and while it is mandatory in the new ACEA E8 category, ACEA E4 will still retain an option to utilize test results using the OM501LA engine test.
Our View
Engine lubricants meeting the robust OM471 piston cleanliness test have to be correctly-formulated to ensure they deliver the performance and protection demanded for today's modern heavy-duty diesel engines.
Surpassing, rather than just meeting, the performance demands of the OM471 test enables oil marketers to deliver higher-performing engine lubricants that exceed the new specifications, providing additional protection and performance benefits to heavy-duty commercial vehicles around the world.
Our team outlines more about the OM471 engine test in this video.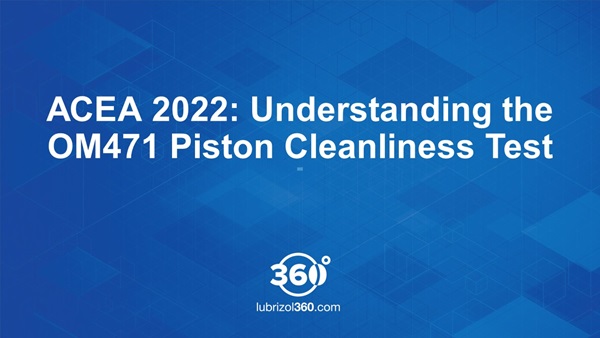 For more information on the ACEA 2022 upgrade for heavy-duty diesel engines, click here or contact your Lubrizol representative.