On May 1, 2022, the widely-anticipated 2022 ACEA European Oil Sequences for Heavy Duty Engines came into effect. The sequences prescribe the minimum quality level of service-fill oils demanded by European Automobile Manufacturers' Association (ACEA) members for use in their vehicles.
The 11th revision to the heavy-duty diesel sequences come at a time when the focus on increased efficiency, reduced emissions and enhanced durability has never been greater. Today's commercial vehicle engines and aftertreatment devices are more sophisticated than ever, with the engine lubricant working in hotter and more severe operating environments as well as performing for longer periods between service intervals.
Superseding ACEA 2016, the following key revisions are introduced in the 2022 ACEA European Oil Sequences for Heavy Duty Engines:
New ACEA E8 category, replacing ACEA E6
New ACEA E11 category, replacing ACEA E9
ACEA E4 and ACEA E7 categories remain to serve legacy engines
The ACEA 2022 upgrade includes the Volvo T-13 Engine Oil Oxidation test (ASTM D8048) and has been added to both ACEA E8 and ACEA E11 categories with limits aligning with API CK-4. The introduction of this test increases the level of oxidative resistance performance required in comparison to the ACEA E6 and ACEA E9 categories. It is essential that a high-performance diesel engine lubricant has good oxidative protection during the oil drain interval as oxidation leads to many undesired and potentially engine damaging issues including acid formation, sludge and varnish formation, oil thickening as well as lubricant decomposition.
The Caterpillar C13 Engine Oil Aeration Test (COAT) ASTM D8047 is an additional performance requirement for the new ACEA E8 and ACEA E11 categories, with limits also aligning with API CK-4. The COAT evaluates an engine lubricant's resistance to aeration in a Caterpillar C13 direct-injected turbocharged automotive diesel engine. Aeration occurs when air becomes entrained with the lubricant, therefore it is critical that an engine lubricant is correctly formulated to resist the entrapment of air in the lubricant which maximizes the oil's ability to maintain hydraulic, cooling, and lubricating properties.
Aging tests are sometimes removed and newer, more relevant replacements are introduced. ACEA 2022 includes the Daimler OM471 piston cleanliness test (CEC L-118-21) as a replacement for the OM501LA. The OM471 test is included in both ACEA E8 and ACEA E4 categories and while OM471 results are mandatory in the new ACEA E8 category, OM501LA test results may still be utilized for the ACEA E4 category.
The introduction of the Daimler OM471 test is a significant change, with engine hardware that is more modern and representative of vehicles entering the European market. Changes to engine design include Euro VI emission control systems, a move from aluminum to steel pistons, and the use of diesel particulate filters (DPF) and exhaust gas recirculation (EGR) aftertreatment devices.
The Caterpillar 1N (ASTM D6750) and C13 (ASTM D7549) cleanliness tests have been added into ACEA E7 and E11 respectively. OM501LA test results may still be utilized for ACEA E7 and E11 (to E9 level). The addition of these Caterpillar tests ensures that piston cleanliness remains a measured parameter as the OM501LA hardware availability reduces over time.

Two ACEA F classes have been discussed over the last few years as baselines for enhanced fuel efficiency (ACEA F8 and ACEA F11) however they are still currently under development and have not been released in ACEA 2022.
For the lubricant marketer, ACEA 2022 claims are possible from the May 1, 2022. New ACEA 2016 claims can continue to be made for 12 months (May 2023) and all claims from May 2024 must conform to ACEA 2022.

Our View
The relevance of the ACEA Oil Sequences across the world has never been greater. The 2022 ACEA European Oil Sequences for Heavy Duty Engines upgrade incorporates important new tests for the industry including the Volvo T-13 and COAT as well as the introduction of the OM471 as a piston cleanliness test.
While the release of the ACEA F class for fuel-efficient engine lubricants was not included in this update, its eventual release will continue the path to enabling lower HTHS viscosity grade lubricants to deliver additional fuel efficiency benefits with approved OEM engine hardware and aftertreatment designs.
Surpassing, rather than just meeting the rigorous performance demands of the upgrade enables oil marketers to deliver higher-performing engine lubricants that exceed the new specifications, providing additional protection and performance benefits to heavy-duty commercial vehicles around the world.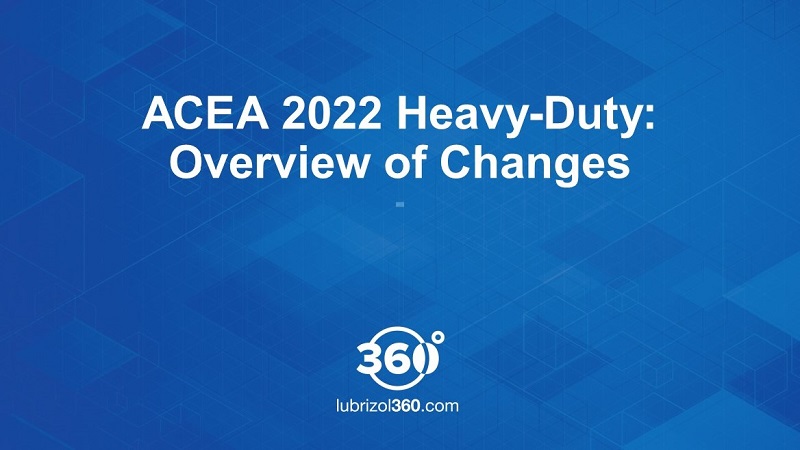 For more information on the ACEA 2022 upgrade for heavy-duty engines, watch our video above, see our additional ACEA On-Highway information or contact your Lubrizol representative.