In recent times, hydraulic equipment has seen a shift towards higher pressure and power densities and longer duty cycles to meet goals for increased productivity. This leads to elevated operating temperatures and harsher service conditions for the equipment. Additionally, operators and equipment owners are seeking to reduce total cost of ownership (TCO) by minimizing unplanned downtime and extending oil drain intervals which can also help lower carbon footprint.
These more severe operating conditions increase the risk of oxidation and sludge formation which can shorten the oil life. Such harsher operating conditions can also lead to premature oil aging, unplanned downtime and potential equipment damage.
Importance of Hydraulic Fluids
Hydraulic fluids serve a critical role in industrial equipment, both in transmitting power and maintaining equipment protection and uptime.

Not all hydraulic fluids are created equal. Hydraulic fluids developed for cost-conscious markets can easily oxidize in the presence of water, air and other contaminants, leading to higher acidity, sludge buildup and faster rates of decomposition. Selecting a high-quality hydraulic fluid, designed to meet harsher operating conditions, is expected to provide excellent oxidation stability as well as mitigate the risk of sludge formation, which can alleviate the risk of downtime and can lower the operating cost.

The development of high-performing hydraulic fluids includes rigorous sets of bench and pump tests as well as field evaluations to demonstrate the performance in demanding conditions.
Common Industry Tests
Oxidation bench tests like ASTM D943 and ASTM D4310 are typically used to measure oxidation potential and sludge tendency; however, these laboratory tests do not mimic operating environments in real-world applications or predict oil drain intervals. A dedicated pump test under high pressure is essential to approximate in-service oil lifetime.

Original equipment manufacturer (OEM) and industry pump tests are required to evaluate the wear performance of hydraulic fluids. Tests like V104C, Denison T6H20C, Eaton 35VQ25 and Bosch RFT-APU-CL are the standard pump test methods chosen to evaluate hydraulic fluids. However, these pump tests are not able to predict in-service oil drain intervals either. The Rexroth A2F10 pump test was specifically designed to measure oxidation performance under high pressure and correlates to oil drain intervals for actual construction machinery.
The Rexroth A2F10 Piston Pump Test (JCMAS P045)
The Rexroth A2F10 pump test was first published by The Japanese Construction Machinery Association (JCMAS) as part of their construction equipment specification, JCMAS P041 and P042 (JCMAS HK and HKB). This test evaluates the sludging, oxidation and corrosion performance of hydraulic fluids and can be used as a realistic way to measure the in-service oil life for mobile equipment.

The A2F10 test uses an axial piston pump at 34.3 MPa (or 5,000 psi) pressure and includes a copper catalyst to accelerate oxidation in the presence of a constant airflow. During the 500-hour test conducted at 80 °C, drain samples are taken every 100 hours and viscosity, acid number and contaminants are measured and compared against the standard as listed in Table 1.

Table 1: Test Parameters for A2F10 Test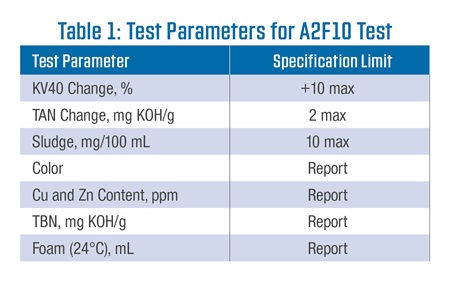 If an oil passes the 500-hour A2F10 test, it is expected to have an oil drain interval of 2,000 hours in real-world conditions1. The A2F10 test can also be run beyond the standard 500 hours to further differentiate oil performance and demonstrate extended oil life. This makes the Rexroth A2F10 test incredibly valuable for equipment operators seeking to lower the TCO.
Our View
Currently, end users are demanding extended oil and equipment life to reduce the TCO. While different bench tests are available to measure oxidation potential and sludging tendency in hydraulic fluids, none of them can predict oil drain intervals . The Rexroth A2F10 test is critical to the industry, as it is the only test that mimics real world conditions. As this test becomes more available globally, it will be of great value to differentiate performance of top-tier hydraulic fluids.
To discover how additive technology can help you meet or exceed A2F10 requirements, contact a Lubrizol representative today.
References
1: Reservoir capacity varies widely with construction machinery types and can impact the oil drain interval.