Enabled by higher-performing gear oils, modern industrial gearboxes are continuing to deliver gains in productivity and operational efficiencies.
It is difficult to think of many industries that do not require the use of industrial gearboxes, whether directly as part of a production process or indirectly by enabling a company's valuable assets to operate smoothly and efficiently. High-performing gearboxes enable increased efficiency and lower costs—both critical in today's ever competitive world.
The implications of gearbox downtime can be significant and costly. Gearbox failure on a ski-lift, for example, not only disrupts hundreds or thousands of skiers from enjoying their time on the piste, but can result in a major reduction in lost revenue for the operator. Likewise, a broken drive gearbox on an 800 ton mining excavator can result in a significant loss of productivity, as well as serious safety issues should the vehicle start to runaway. Similarly, gearbox failure on an offshore oil platform can result in the inability to raise the platform height during gale force weather conditions, leading to both operational and safety issues for the entire workforce.
Today's industrial gearboxes are not only smaller and lighter but are delivering greater power densities than ever before. Higher gear teeth loading, higher bearing loads and increased oil temperatures have an impact upon the requirements of a modern industrial gear oil (IGO). This is resulting in the need for IGOs to perform to the exacting standards demanded by the gearbox original equipment manufacturer (OEM).
Baseline industry oil standards exist relating to the performance of IGOs, such as AGMA 9005-F16, DIN 51517-3 and ISO 12925-1. Many gearbox OEMs often use some or all of these baseline standards in addition to their own specific requirements, resulting in more stringent performance standards for the gear oil.
ZF Industrial Gear Oil Specification
With more than 100 years of proven experience, ZF Industrial is a leading supplier of industrial gearbox applications covering mining and large construction machines, marine and offshore, industrial machinery and equipment and rope-based transportation systems.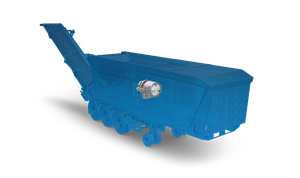 Shredder with ZF Gearbox 1
The ZF Industrial Gear Oil Specification enables oil marketers to sell a high-performing, OEM-approved IGO, once it has successfully passed ZF Industrial's strict approval process. Valid for a period of five years before requiring requalification, oil marketers meeting the requirements of the specification are able to promote their approved IGOs on the ZF lubricant list "TE-ML 27."
The ZF Industrial gear oil specification applies to all of the company's drive, swing, winch, pump distribution, industrial, ropeway, spur and helical bevel gears.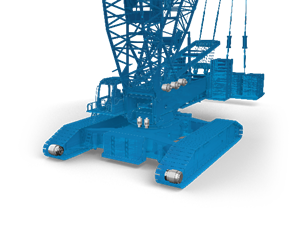 Crawler Crane with ZF Gearbox 1
The specification has a starting baseline of the European DIN 51517-3, which requires specific basic properties (including viscosity, viscosity index, acid number and pour point) and performance requirements (including foam, demulsibility, steel and copper corrosion, oxidation and anti-wear) to be met.
Reflecting the importance of bearing wear protection, the ZF Industrial specification incorporates one of the most severe wear tests in the industry. The FAG 4-step-test consists of the following:
A short-term wear test of 80 hours under extreme mixed friction conditions (step 1)
An 800-hour fatigue lifetime test at moderate friction conditions (step 2)
A 700-hour fatigue lifetime test at EHL-conditions (step 3)
A 600-hour residue formation test at higher temperatures (step 4)
To pass the FAG 4-step-test element of the specification, roller wear levels of less than 10 mg must be achieved—over 65% lower than the usual passing limit of 30 mg in this severe test setup, besides meeting all the other duration and residue test requirements.
ZF Industrial has also developed its own wet brake compatibility test as part of the specification, designed to ensure robust lubricant performance with static wet-running multi-disc brakes.
In order to pass the latest ZF Industrial specification, IGOs must also pass a number of additional requirements and tests including minimum operating life and maximum lubricant temperatures, oxidation behavior, corrosion testing, water separation capacity, foam testing, gearbox coating compatibility, seal and sealant compatibility and multipass filterability tests. Only oils which successfully pass these performance requirements are regarded as having met the most demanding gear oil specification ZF Industrial has for its industrial gearboxes today.
Our View
Higher-performing IGOs are enabling modern gearboxes to perform to their full potential. Today's gearboxes are operating in hotter and more severe conditions, with OEMs stepping-up the performance levels required from their gear unit oils. Approved IGOs that have passed the strict and robust requirements demanded by the OEM provide additional reassurance to all stakeholders in the supply chain and allow oil marketers the opportunity to promote the benefits these higher-performing IGOs provide.
For more information on industrial gear oils, including the ZF Industrial specification approval process, please contact your Lubrizol representative.
Images courtesy of ZF Industrieantriebe Witten GmbH