Originally anticipated for an early 2021 release, the upcoming revisions to the European Automobile Manufacturers' Association's (ACEA) Heavy-Duty Oil Sequences are now likely to be released towards the end of 2021.
In addition to the introduction of new performance requirements with the Volvo T-13 and the Caterpillar Oil Aeration Test (COAT) for the ACEA E8 and E11 categories, there are now new details regarding piston cleanliness test requirements.
The OM501LA piston cleanliness test is to be replaced by the OM471 test for ACEA E4 and E8, with OM501LA grandfathering permitted for ACEA E4.
For the ACEA E7 and E11 categories, discussions are still ongoing to finalise a replacement piston cleanliness test. Possible candidates include the Caterpillar 1N and/or Caterpillar 1K single cylinder engine tests for ACEA E7, and the Caterpillar C13 for ACEA E11 or a temporary continuation of the OM501LA for both categories.
With increased demand for biodiesel compatibility, the OM646 biodiesel engine test will see increased limits to improve cleanliness in both ACEA E8 and ACEA E11.
Many of the new test requirements adopted into the ACEA 2021 Heavy-Duty Oil Sequences represent improved alignment with the industry-known API CK-4 and API FA-4 specifications using established ASTM test methods.
Aside from the E Sequences, the lower High Temperature High Shear (HTHS) viscosity F Sequences are experiencing further delays as the industry looks to define the performance requirements and ensure testing provides sufficient wear protection for use of these low viscosity grade, efficient lubricants in the field.
Our View
Despite the delays to the anticipated ACEA E and F Sequences launch dates, the development of comprehensive and suitable testing requirements will ensure lubricants in use in Europe and around the world provide the correct levels of protection to hardware and aftertreatment systems.
Our global team outlines the anticipated revisions to the ACEA Heavy-Duty Oil Sequences in this video.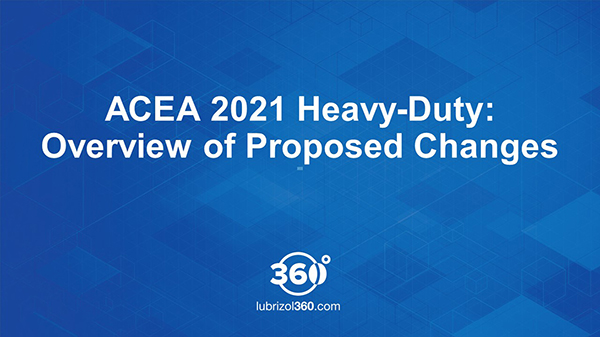 The ACEA 2021 Light-Duty Oil Sequences, effective May 1, 2021, presented a series of new categories and test requirements to align with the latest industry hardware. Read more about the Light-Duty Sequences here.