The European Automobile Manufacturers' Association (ACEA) represents 16 major manufacturers of cars, vans, trucks and buses within Europe. With around one third of vehicles exported outside of Europe, this latest update will continue to ensure the required baseline in engine oil performance can be achieved wherever these vehicles are destined for. The update addresses the requirements of modern hardware and regulatory advancements, adapting to the current challenges placed on Original Equipment Manufacturers (OEMs) including further improvements on fuel economy and deposit control and the resultant use of lower viscosity oils.
Category Changes


As per ACEA's own rules, "An update must always satisfy the applications of the previous issue. If this is not the case, then a new category is required." To meet the demands of modern hardware such as Turbo Gasoline Direct Injection (TGDI) engines, combat Low Speed Pre-Ignition (LSPI) and ensure wear protection and Turbocharger deposit control, two new categories have been introduced: for High Sulphated Ash, Phosphorous and Sulphur (SAPS) A7/B7-21 and for Lower SAPS C6-21.
Whilst both new categories incorporate requirements which enable the use of lower viscosity fluids, combat LSPI and tackle turbocharger deposits; ACEA A7/B7-21 builds on the requirements of A5/B5, looking to support the vehicles out in the field without exhaust after treatment technology and ACEA C6-21 builds on the requirements of ACEA C5, whilst maintaining Gasoline Particulate Filter (GPF) and Diesel Particulate Filter (DPF) compatibility.
ACEA is also committed to controlling the number of categories being used in the marketplace, simplifying the consumers decision making and ensuring technology no longer creating the correct baseline for the current vehicle parc is removed from use. As such, A3/B3-16 and C1-16 have been removed from the document.
New Tests
Several new tests have been introduced into the latest ACEA sequences, through a combination of hardware upgrades ensuring longevity of testing and to raise the baseline requirements in line with the modern vehicle park. There have also been two instances of test deletion (CEC L-99-08 OM646LA Wear and CEC L-104-16 OM646LA Biodiesel).

Following are the key new tests:
CEC L-114-19 Toyota Turbocharger Deposits Test: The Toyota Turbocharger test focuses on minimizing deposits in the operating environment of the new hotter, harsher environments of a today's engines. As turbocharger deposits can not be removed, it is crucial engine lubricants do not break down under these conditions and have high resistance to oxidation.
CEC L-117-20 VW TDI3 Test: The TDI3 test replaces the previous TDI2 test, utilizing an updated engine featuring Exhaust Gas Recirculation (EGR), variable geometry turbocharger (VGT), nitrogen oxides (NOx) catalyst and DPF.
CEC L-107 M271 EVO: The M271 EVO test replaces the previous M271 test targeting sludge creation. As hardware trends increase the use of TGDI engines, this test better reflects newer engine technology and the challenges facing modern high-performance engines. This test was introduced in ACEA 2016 revision 3 in July 2020.
Timing for Use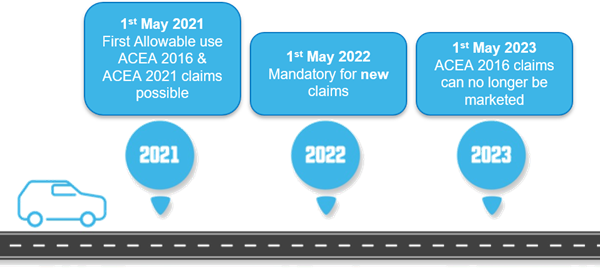 New claims can be made to ACEA 2021 for light duty engine oils from May 1, 2021 and any new product developments must demonstrate ACEA 2021 approval only from May 1, 2022.
For products currently claiming ACEA 2016, this means oil marketers have a choice to make—upgrade products to the latest specification before May 1, 2023 or remove these products from sale..
A Change in Strategy
Since their creation in 1996, ACEA has previously released updates to the general requirements, light duty sequences and heavy duty sequences together in one document. However, this update sees the light duty categories amended independently of the heavy duty categories. This shift enables ACEA to adapt their guidance more freely as the market evolves with the latest hardware and regulatory requirements. Whilst the heavy duty sequences remain unchanged, a streamlined version of the category document has been released. Click here for further information on the expected updated to the heavy duty sequences.
For more information on the ACEA 2021 upgrade for light-duty engines, please contact your Lubrizol representative.