Premature pump and equipment failure
Metal fatigue
Severe wear and ridging of gear parts
Brake chatter
Operational safety issues
Unfortunately, because the claims made on these yellow bucket fluids are often vague, confusing and misleading with generic statements such as "for use in older tractors," list multiple OEM brands without any reference to performance specifications or reference "303," John Deere's JDM 303 specification, equipment owners and operators are still using these fluids in their machinery. Many consumers are unaware that John Deere's JDM 303 specification has been obsolete since 1974. JDM 303 was replaced by J14 which was then replaced by J20A, which was replaced by today's current specification, J20C, in 1991. The tests used to verify JDM 303, J14 and J20A fluids are no longer available; therefore, there is no way to verify the performance of these fluids in a tractor. Some companies take advantage of this by filling buckets with line wash and selling them as an additized fluid creating a serious consumer protection issue. Luckily, today's current specifications are all backwards compatible to previous obsoleted specifications so you can be confident that your equipment specifying JDM 303 will be protected using a J20C or J20D level fluid. To ensure that consumers are protected from misleading THF labeling, The National Conference on Weights and Measures (NCWM) approved amendments to the
National Institute of Standards and Technology (NIST) Handbook 130
applicable to the sale of THFs. Effective January 1st, 2020, THFs shall meet at least one current and/or verifiable tractor OEM specification. In order to ensure THF fluid packaging does not contain any information that is false or misleading, a "container"—defined as a bottle, can, multi-quart or liter container, pail, keg, drum or intermediate bulk container (IBC)—must include the following:
A brand name.
Name and place of the manufacturer, packer, seller, or distributor.
The words "Tractor Hydraulic Fluid," which may include words such as "Hydraulic Fluid for Agricultural Applications" or "Universal Tractor Transmission Oil."
The primary claim or claims met by the fluid and reference to where any supplemental claims maybe viewed (e.g., website reference). Performance claims are those set by OEMs.
Any obsolete equipment manufacturer specifications should be clearly identified as "obsolete" and accompanied by the following warning on the front package label in clearly legible font size and color. For example: "Caution: Some of the specifications are no longer deemed active by the original equipment manufacturer. Significant harm to the transmission, hydraulic system, seals, final drive or axles is possible when using this product in applications in which it is not intended." The above warning is not required if the fluid claims to meet current OEM specifications and refers to thereby preceding specifications.
An accurate statement of the quantity of the contents in terms of liquid measure.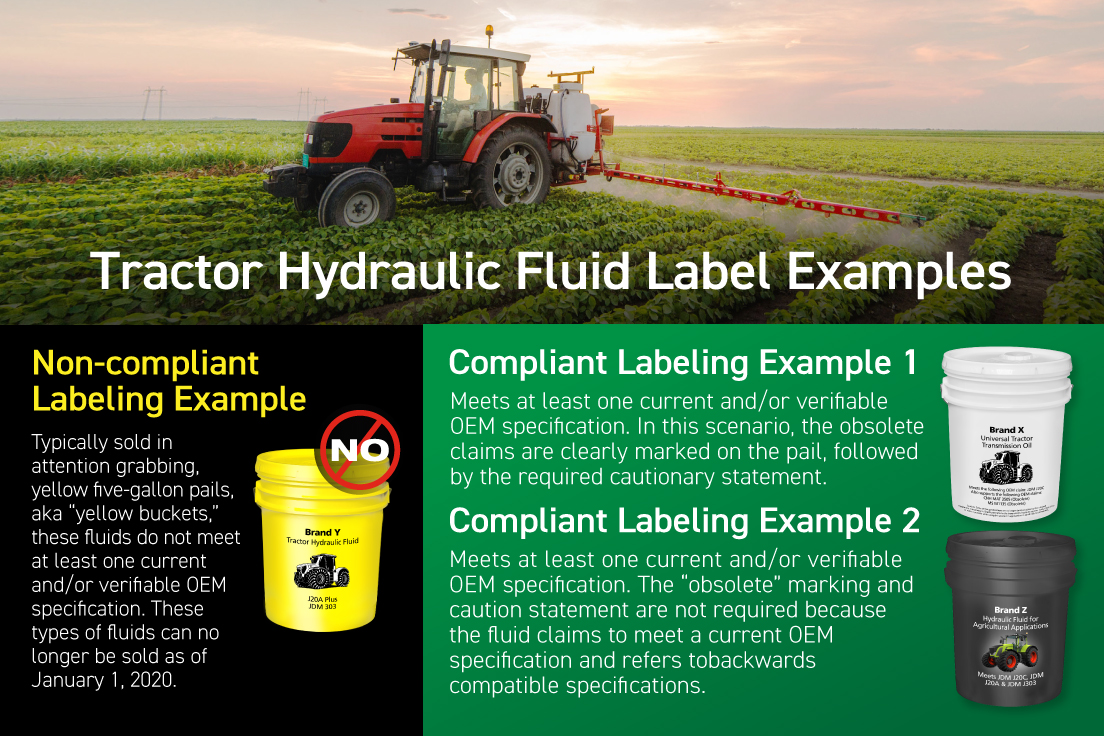 There is no formal inventory grace or sell-through period; enforcement began on January 1, 2020. Currently, 19 states enforce these THF amendments:
Arkansas
Connecticut
Illinois
Maine
Missouri
Nevada
New Hampshire
New Jersey
North Carolina
Oklahoma
Rhode Island
South Carolina
Tennessee
Texas
Utah
Vermont
Virginia
Washington
West Virginia
To learn more about tractor hydraulic fluids, contact your Lubrizol representative.