The ACEA Oil Sequences were first introduced in 1996 to provide the industry with a new baseline of performance for service-fill engine lubricants replacing the CCMC specifications. Since their introduction, the Oil Sequences have been updated every few years to address new developments in engine and lubricant technology. ACEA represents European manufacturers of light and heavy-duty vehicles, and the sequences enable lubricant manufacturers to self-certify their products against the minimum standards required by the members of ACEA.
Within the Heavy-Duty Oil Sequences, the E categories define the requirements for service fill engine oils used in heavy-duty diesel engines. In total there are four E categories; E4, E6, E7 and E9. ACEA E4 and ACEA E6 lubricants are suggested for use where significantly extended drain intervals are recommended, with E4 denoting Full Sulphated Ash, Phosphorous & Sulphur ( SAPS) and E6 Low SAPS. Comparatively, ACEA E7 and ACEA E9 lubricants provide standard and extended drain intervals, with E7 denoting Full SAPS and E9 Mid SAPS. This ensures compatibility for engines with or without aftertreatment devices requiring different performance levels and operating under different conditions.
The ACEA 2016 Heavy-Duty Oil Sequences saw a strong focus on biodiesel compatibility with two new biodiesel engine tests introduced, alongside differences in requirements for oil-elastomer compatibility to address new elastomer materials found within modern engine hardware. The 2016 Sequences also included the replacement of the Mack T-11 test with the Mack T8-E to maintain the ACEA E9 category's relevance for soot production levels in the latest Euro VI diesel engines. These changes ensured a higher level of protection and performance for today's modern engines.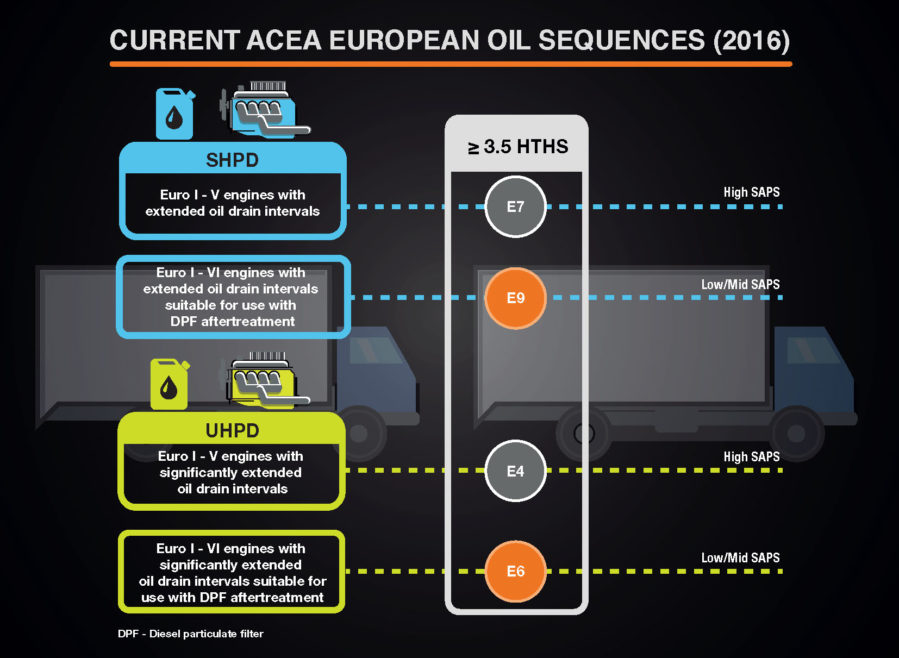 What's next for the ACEA Heavy-Duty Oil Sequences?
ACEA have now begun to prepare the next version of the Oil Sequences, with the aim to release these new specifications in December 2018, although this date is not yet confirmed. The ACEA 2018 Heavy-Duty Oil Sequences will reflect the ever-changing demands placed on the lubricants, with the introduction of new engine technology and challenges faced by present-day and future high-performance engines influencing new tests and categories to suit the needs of the market.
The ACEA 2018 Heavy-Duty Oil Sequences are predicted to focus on an upgrade of ACEA E6 and ACEA E9 specifications, with the introduction of established ASTM engine tests specifically developed for API CK-4. These include the Mack T-13 oxidation test and Caterpillar C13 aeration tests, to provide further increased extended oil drain capability and compatibility with the latest generation of engine hardware. The ACEA E6 and ACEA E9 categories are expected to be obsoleted and replaced by ACEA E8 and ACEA E11 respectively.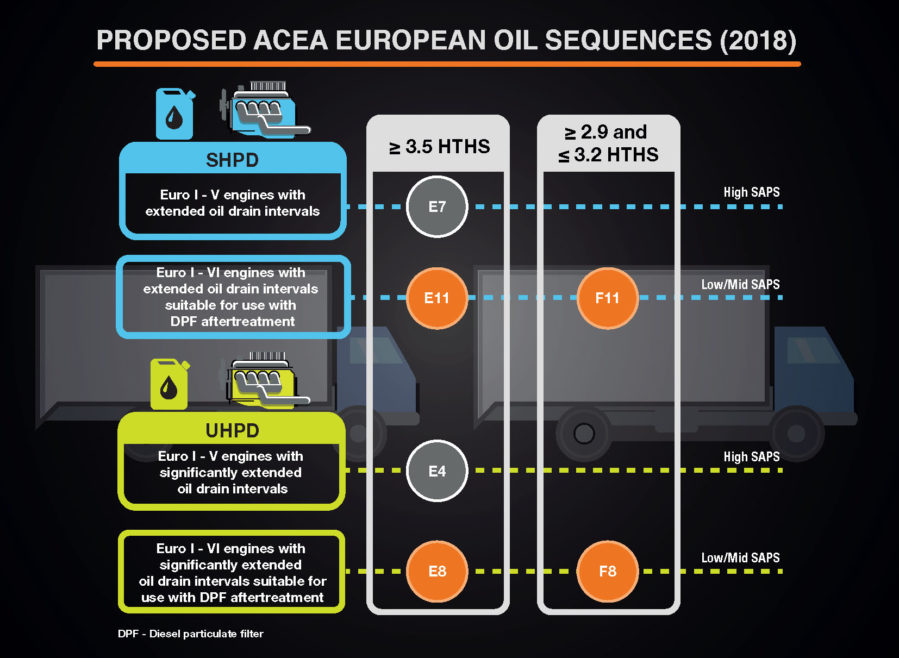 The ACEA E4 and ACEA E7 categories are currently expected to remain in their current form to serve legacy engines, with no updates to testing requirements or category name.
The other significant change will likely be the introduction of a new F sequence, consisting of two new Mid/Low SAPS categories, ACEA F8 and ACEA F11.
In comparison to ACEA E6 and ACEA E9, the ACEA F8 and ACEA F11 specifications will require lubricants to meet a High Temp High Shear (HTHS) viscosity level of between 2.9 to 3.2 mPa.s. This will provide fuel economy and greenhouse gas emission improvements whilst ensuring engine protection and durability remains uncompromised.
In addition, the ACEA F categories may include reference to the reduced levels of soot produced by modern engines and could include two new CEC low soot bench tests. These new wear tests are required to support the launch of the new ACEA F categories; however, they are not expected to be available until mid-2019. Lastly, and impacting all heavy-duty categories, the hardware required for the OM501LA bore polishing and piston cleanliness test is coming to the end of its life, with a successor not expected to be available until mid-2019. The Mercedes-Benz OM471LA engine may be a potential successor but has not yet been formally offered as a test for these performance criteria.
For more information on ACEA Heavy-Duty Oil Sequences, contact your Lubrizol representative.