The transportation sector in India is set for a rapid change, driven by two very significant pieces of legislation:
The forthcoming emission standards of Bharat Stage (BS) VI in 2020, followed by more stringent BS VI (OBD-II) in 2023.
Fuel economy mandates for commercial vehicles – Phase I of which is already implemented, and Phase II in 2022 with tighter limits.
In India, the commercial vehicle engine oil business contributes almost 60% to the total automotive engine oil demand, and so the above-mentioned changes will have substantial impact on the overall engine lubricant performance quality requirements.
Understanding Original Equipment Manufacturers (OEMs) Viewpoint on Engine Oil
Optimizing the vehicle's cost of ownership has become an even more important key strategy for the commercial vehicle OEMs in India with regards to differentiating product offerings from their competition. This approach helps to not only retain customers but also enables new customers to switch. In recent times, efforts have been focused on further reducing cost of ownership, where most of the OEMs have been successful in extending warranty periods through the implementation of extended oil drain periods across the powertrain.
However, the upcoming legislatives hold a challenge for the OEMs. To meet the new emission limits, OEMs will need to make changes in their hardware, such as the introduction of new exhaust after-treatment devices. This is essential if potential financial penalties are to be avoided. It comes as no surprise therefore that this will bring in additional costs for the OEMs, which, in all likelihood, will have to be partially absorbed by the end user, or purchaser of the vehicle.
Implementation of fuel economy standards will result in fuel savings for the end users, and this will help to mitigate some of the costs. OEMs expect to retain the extended warranty periods which have been a key competitive strategy for them.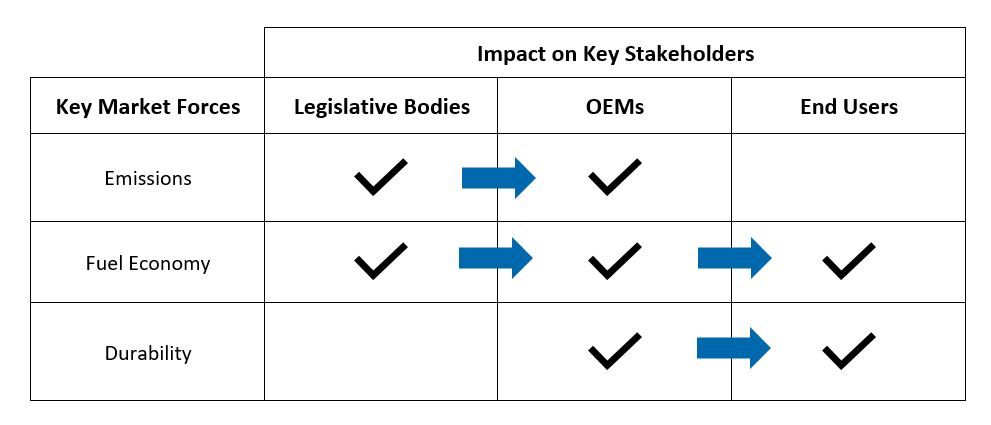 Summary of OEM Engine Oil Perspectives.
As a result, OEMs that operate in India could expect engine oil technology that enables a continuation of the previously developed cost of ownership strategies to be available even in the era of the new emission standards:
Retain oil drain intervals at today's levels as a minimum – extension of these wherever possible.
Improved fuel economy without compromising durability.
Compatibility with exhaust after treatment systems.
Our view
There will be implications on engine oil additive and performance polymer technology, and there are a number of critical areas of performance which need to be focused on. These broadly fall into three main categories, all of which will be explained in the next article in our series on BS VI engine oil implications.
For more information on BS VI and Its Implications, contact your Lubrizol representative.