Two-wheelers such as motorcycles, scooters and mopeds run on petrol. To achieve BS VI emission norms on these vehicles, the two-wheeler manufacturers have made following changes:
Changed the fuel injection type from carburetor to port fuel injection
Upgraded the exhaust catalyst from two-way to three-way catalyst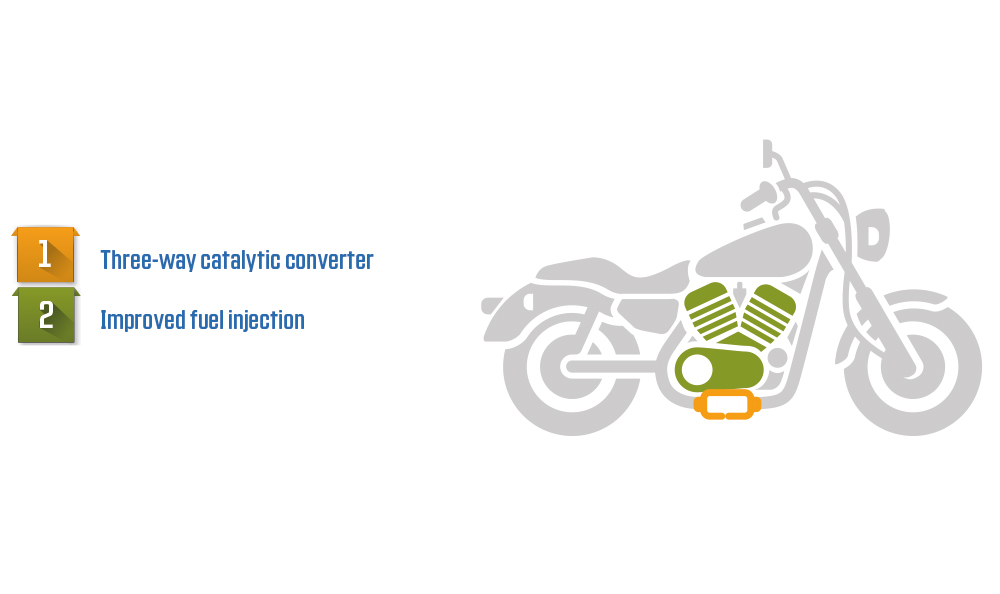 The changes in the two-wheeler hardware, i.e. upgrading of fuel injection from carburetor to port fuel injection and upgradation of exhaust catalyst from two-way to three-way catalyst, has made higher performance motorcycle engine oils necessary.
Changing from carburetor to port-fuel injection means the fuel burns more efficiently raising the engine operating temperature, meaning the motorcycle oil must withstand higher operating temperatures.
Use of three-way catalysts requires motorcycles oils to have lower phosphorus levels as phosphorous coming from oil can act as a poison to the precious metal active sites in the exhaust catalyst, rendering it less effective over time. Additionally, phosphorous volatility is found to be higher in two-wheelers due to operating conditions. Hence, proper focus needs to be given to this aspect while formulating motorcycle oil for BS VI-compliant two-wheelers.
Lubricant Solution: The motorcycle engine oils required for the BS VI-complaint two-wheelers will require higher API performance levels (eg. API SN level) to ensure improved oxidation and thermal stability.
Additionally, oils with lower phosphorous content (>800 ppm to be in line with JASO specification) along with minimized volatility of phosphorous will be needed for optimal catalyst durability.