Mar 12, 2021
Posted by Roberto Saruls
,

Regional Business Manager, Industrial - Latin America
For decades, industries have evolved their products to meet consumer demands. From the evolution of 3D printers and the electrification of motor vehicles, to the development of new materials like graphene, the world continues to look different than the decade before. For the industrial market, this is no different.
In these photos, you will see a transformation from New York City in the early 1900's (left) using horse and carriages as the most common means of transportation to a picture of New York City in the 1913, where automobiles had become the number one source of transportation with the invention of the Model T in 1908. These images quickly, but accurately, depict how new technologies can result in completely different products, consumer expectations and behaviors.

(Sources: National Archives; The Bowery Boys)
The Transition To Lithium
The continued changes in the automotive market directly impact the industrial grease market. As the world shifts from the standard combustion engine to electric vehicles, there will be a greater demand for lithium. According to NLGI, lithium greases account for more than 75% of global lithium consumption. To put this into perspective, the country of Brazil has only 5% of the global lithium reserve. To produce lithium greases in Brazil, it requires 500 tons of lithium metal per year.
As the production of electric vehicles increases, so will the lithium demand. Lithium consumption is expected to significantly increase on a global scale, with an anticipated 20,000 tons per year to 50,000 tons per year by 2025—ultimately, impacting the cost of lithium greases.
Table 1 represents the most common applications and their corresponding lithium demands within the global marketplace.

Table 1 (Source: Dakota Minerals)
The Search For A Lithium Alternative
In the process of discovering an alternative to lithium and complex lithium, there are several thickeners suited for high-quality greases. The advantages and disadvantages can be found in Table 2.

Table 2 (Source: Lubrizol internal training)
Calcium Sulfonate greases are multipurpose and require minimal additives to deliver desired performance benefits within different applications. Table 3 illustrates the results of four-ball and Timken tests. Using basic, calcium sulfonate grease—without additional additives—it indicates the exceptional performance that can be achieved within high-temperature environments.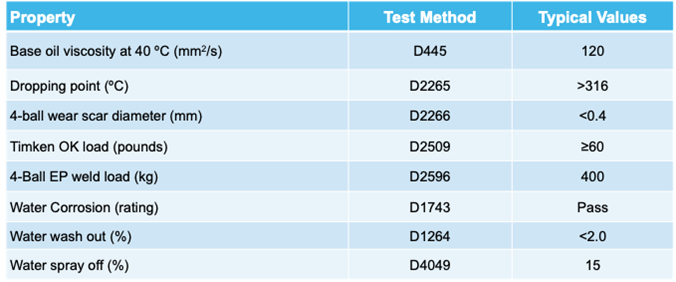 Table 3 (Source: Lubrizol internal data)
The Search for Lithium Grease Alternatives
Although there is not a "perfect grease" within the marketplace, calcium sulfonate greases have proven to be a sustainable alternative to complex lithium greases. If grease manufacturers decide to select this as an alternative solution, it is recommended they seek additives that ensure superior performance. When selecting a calcium sulfonate grease, there are a couple items to consider:
Pumpability: Due to differing characteristics found in thickeners and soap fibers, three calcium sulfonate greases could present different pumping results. The DIN 51805 allows us to evaluate this property and draw comparisons between similar products as illustrated in Table 4.
Water washing: Due to differences in methodology, calcium sulfonate greases may present good water wash results by ASTM d1264 (Wash-out) and bad by ASTM D 4049 (Spray-off). Table 4 illustrates significant variations between base greases (without additives). If performance additives are used, spray-off can be reduced by up to 10%.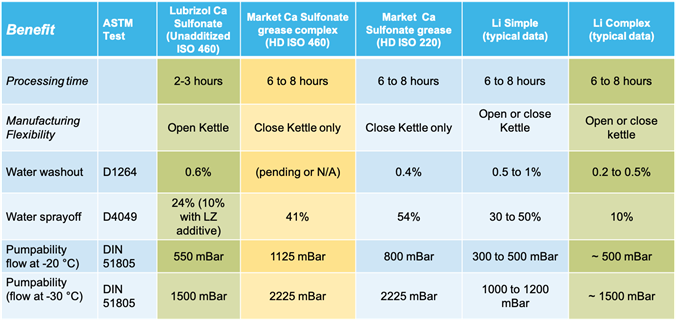 Table 4 illustrates an example of complete formulation of Calcium Sulfonate grease and performance additives developed for the steel industry. These additives allow for excellent water washing results to be obtained in both ASTM d1264 (wash-out) and ASTM D 4049 (Spray-off) method. Additionally, grease presents high performance EP and stability to shear. (Source: Lubrizol internal benchmarking)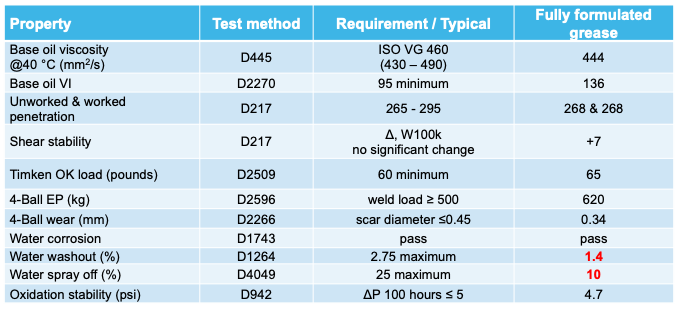 Table 5 illustrates how a calcium sulfonate grease can be used with specific additives to achieve desired performance in automotive or industrial applications. (Source: Lubrizol internal benchmarking)
The GC-LB norm is one of the most recognized for the automotive segment. Table 6 illustrates an example of complete formulation of Calcium Sulfonate grease and performance additives developed for the automotive industry that serves GC-LB. We highlight in blue some very relevant results obtained during evaluation of this formulation.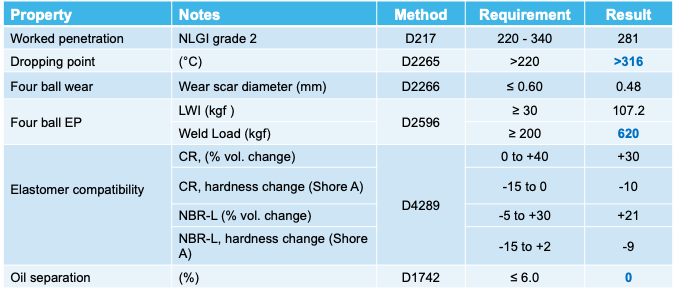 Table 6 (Source: Internal Lubrizol data)

Table 7
The versatility of Calcium Sulfonate greases compared to Lithium Greases can be compared according to Table 7. With the use of appropriate formulations and additives it can be used with good or optimal performance in virtually all segments of the industry, including food where lithium is inadequate.
Our View
As the industrial and automotive markets continue to evolve, discovering lithium grease alternatives is essential. Calcium sulfonate greases serve as an excellent alternative as it features exceptional versatility within various industries, as well as high anti-wear and anti-corrosion properties. While there is currently no mandate to implement the switch from lithium greases to calcium sulfonate greases, this new alternative can serve as an effective and economical choice for manufacturers.
To learn how the shift to calcium sulfonate greases could benefit your business, contact a Lubrizol representative today.