Feb 14, 2019
Posted by Keith Howard
,

Strategic Technology Manager

,

Ping Zhu

,

Director of Technology, Asia
Many of China's cities have had serious air quality issues over recent years. China is the world's largest automobile market and vehicle emissions have been a major source of pollution, but the Chinese government is tackling the problem and significantly improving air quality. A series of emission legislation upgrades have been introduced, which have largely followed European standards. The next upgrade, known as China 6, is due for implementation from July 2020. This will put China right at the top of the list of countries with the most challenging vehicle emissions standards. By doing this many thousands of tons of serious pollutants such as particulate matter (PM) and oxides of nitrogen (NOx) will be removed from China's air.
While China 6a limits (to be introduced in July 2020) will largely equate to Euro 6 ones, there are some key differences in application. The most significant is the application of particulate number (PN) limits to all gasoline powered cars, not just gasoline direct injection (GDI) versions as in Europe. This will mean a far wider adoption of gasoline particulate filters (GPFs). Even hybrids, traditionally seen as very low emission vehicles, face the prospect of needing GPFs as their frequent stop/start cycles produce a puff of particulates with every engine start. Things will get tougher still when China 6a is replaced by 6b in July 2023, with revised limits significantly lower than European equivalents.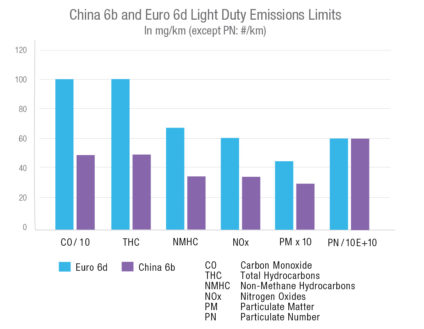 The real long-term challenge comes from the requirements for the durability of emissions control devices:
For light duty vehicles, this is 160,000km (rising to 200,000km in 2023)
For heavy duty diesel trucks, it is an extremely challenging 700,000km
This is combined with the need to provide on-road real driving emissions (RDE) compliance, which is much more difficult than when done on a rolling road under controlled laboratory conditions. Original equipment manufacturers (OEMs) face serious penalties and loss of customer confidence if they are unable to guarantee that emissions stay low over the lifetime of the vehicle. They are looking at all options to ensure long-term compliance.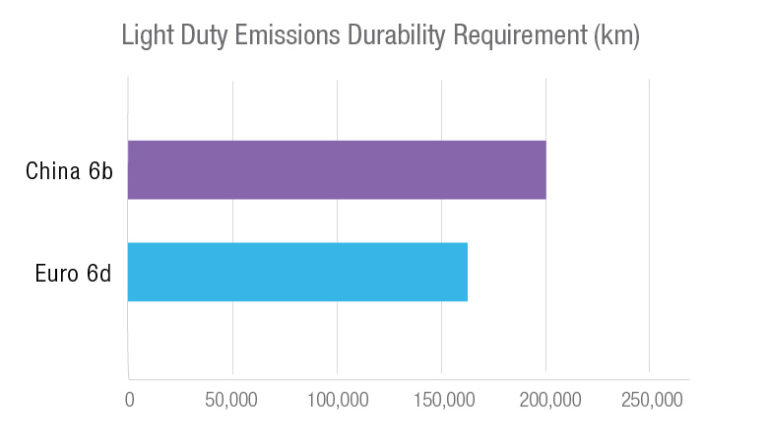 Low emissions must also be combined with fuel efficiency. China's fuel economy regulations are tightening year-on-year. For example, the stage III fuel consumption limit for heavy duty trucks (to be introduced in July 2019) will be 15% lower, while passenger car limits will have dropped by 25% between 2016 and 2020.
Compliance with emissions and fuel economy regulations is impossible without high quality, aftertreatment-compatible lubricants. By minimizing deposits and wear, the engine and driveline will continue to perform as they were designed to do, and emissions will remain low. Aftertreatment-compatible lubricants will ensure that catalysts, particulate filters and other devices continue to effectively minimize emissions from the vehicle over its lifetime. All this will be combined with lower viscosity and fuel efficiency without compromising protection.
OEMs cannot afford to wait until the legislation is upon them, they are working now to put the right technologies in place for their China 6 vehicles. With OEMs, oil marketers and additive technology suppliers working together, we will move forward to a brighter, cleaner future for the environment in China.

If you would like additional information on China 6, visit the China 6 section, or contact your Lubrizol representative: