Research commissioned by Lubrizol shows that the Kingdom of Saudi Arabia has a significant, and growing, parc of commercial vehicles fitted with diesel particulate filters. Such an after-treatment device typically requires lower SAPS levels in the engine lubricant to deliver the necessary performance and protection for the vehicle.
As a net importer of commercial vehicles, the majority of the vehicle fleet in the Kingdom of Saudi Arabia has its origins in Europe, the United States and Japan. The majority of these vehicles are using engine technology from global platforms, which have been designed to meet relevant emission standards, such as Euro V and VI, with the widespread use of exhaust after-treatment devices including selective catalytic reduction (SCR) and diesel particulate filters (DPFs).
Such after-treatment systems typically require lower levels of sulfated ash, phosphorus and sulfur (SAPS) in the engine lubricant. SAPS are important components in the formulation of a lubricant, providing wear protection and cleanliness performance amongst many other benefits. However, if the chemistry within a lubricant contains SAPS levels above original equipment manufacturers (OEM) specified limits the levels of ash created during combustion can begin to fill up the channels within the particulate filter. This will eventually block the filtration channels completely, causing large expenses for the end user. Likewise, engine lubricants with too high levels of phosphorus and sulfur can have a detrimental effect on catalytic converters, again causing significant cost and downtime.
Today, Saudi Arabia's demand for commercial vehicle engine lubricants is dominated by the American Performance Institute's API CH-4 and API CI-4 category oils. Neither has prescribed limits for sulfated ash, phosphorus and sulfur, meaning the potential for blocked DPFs exists, which can result in reduced vehicle efficiency as well as increased fuel consumption. Equally important is the potential need to replace a blocked DPF which can cost several thousand Saudi riyals (SAR), in addition to the significant costs to the end user while the vehicle is out of operation.
API CK-4 is the latest performance category that incorporates prescribed SAPS limits. API CK-4 oils are especially effective at sustaining emission control system durability where particulate filters and other advanced after-treatment systems are used. Equally for European engine manufacturers the European Automobile Manufacturers' Association's ACEA E8 category (which replaced ACEA E6 on 1st May 2023) prescribes SAPS limits, as shown below. ACEA recommends ACEA E8 use in vehicles fitted with after-treatment systems for the reduction of particulate matter (for DPFs) and oxides of nitrogen (for exhaust gas recirculation (EGR) and/or SCR), in combination with low sulfur diesel fuel.
| Specification | Sulfated Ash (%) | Phosphorus (%) | Sulfur (%) |
| --- | --- | --- | --- |
| API CH-4 | No limit | No Limit | No limit |
| API CI-4 | No limit | No limit | No limit |
| API CK-4 | ≤1.0 | ≤0.12 | ≤0.4 |
| ACEA E8 | <1.0 | <0.08 | <0.3 |
Table 1: Prescribed SAPS limits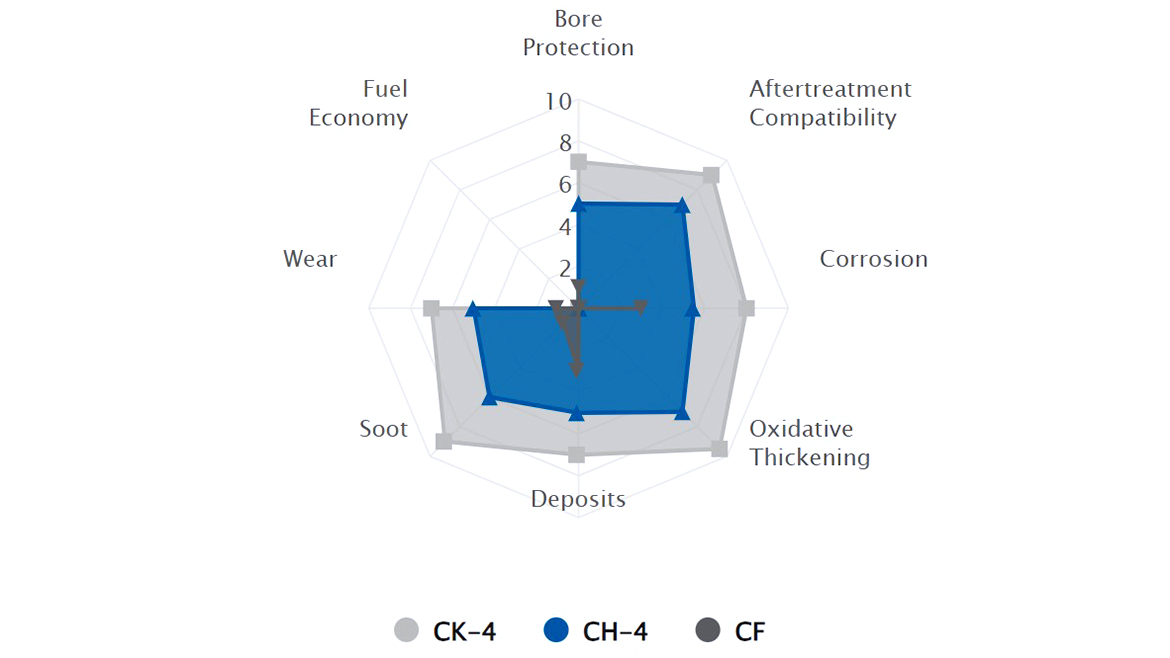 Using API and/or ACEA as baseline specifications, OEMs continue to upgrade their own service-fill specifications for their own vehicles, ensuring the engine lubricant works as intended throughout its service interval, wherever in the world their vehicles may be operating. OEM specification ensures protection to the OEM hardware, but they also enable the development of tailored efficiency to maximize efficiency. These OEM specifications feature highly technical and demanding laboratory and engine tests ensuring superior performance under the most severe conditions.

Example specifications from OEMs include Volvo VDS-4.5, Daimler MB 228.31, Cummins CES 20086, CAT ECF-3, Renault RLD-3 amongst others for lower SAPS requirements.
Our View
The Kingdom of Saudi Arabia has a significant parc of commercial vehicles fitted with after-treatment devices which require the use of lower SAPS engine lubricants. Using low SAPS API CK-4, ACEA E8 and OEM-approved lubricants ensures that heavy-duty engine oils fulfill the demands of modern engine hardware and after-treatment systems located in Saudi Arabia.
In addition to marketing API CH-4 and CI-4 performance-level oils for vehicles without after-treatment devices, oil marketers should be looking to ensure their portfolio includes higher-performing API CK-4 (low SAPS) engine lubricants to meet the demands of commercial vehicles using exhaust after-treatment systems. Additionally, they should ensure the additive chemistry they choose is supported by robust test data results that demonstrate the appropriate performance and protection is being delivered to both the commercial vehicle and ultimately the end user.

For more information contact your Lubrizol representative.