2020 is going to be a key year for the motorcycle industry.
In January 2020, Europe move from Euro 4 to Euro 5 emission standards for two-wheelers, while in April 2020, India will move from BS IV to BS VI emission standards across all on-highway vehicle segments. BS VI emission limits for two-wheelers would replicate the Euro 5 limits, bringing India on par with European standards.
Overview of Emissions Legislation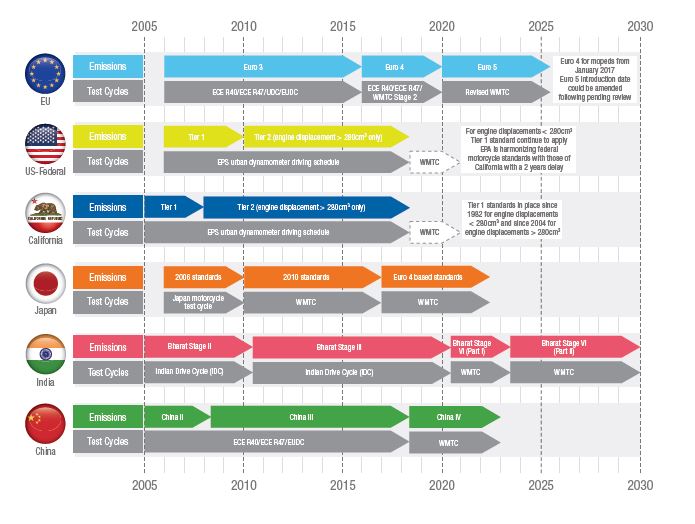 However, there is one major difference. In India, the government has proposed to implement On-Board Diagnostics (OBD) Stage I on April 1, 2020 and OBD Stage II on April 1, 2023 onwards, whereas, in Europe, OBD Stage I and II will be implemented along with Euro 5 in January 2020.
OBD Stage I requires monitoring for any electrical circuit or electronics failure of the emission control system and reporting any failures which result in the emission thresholds being reached
OBD Stage II calls for monitoring of the catalytic convertors, misfire detection and oxygen sensor deterioration.
Along with this, vehicles will be required to meet the durability requirements to ensure that emission limits will be met over a vehicle's lifetime. Additionally, the Original Equipment Manufacturers (OEM) will need to factor in engineering margin for production variability.
All of these factors mean that meeting these legislative requirements is a huge step, one that will require a change in the mind-set and in the development methodology of OEMs that are designing and producing motorcycles.
As India is the biggest motorcycle market in the world, and Europe represents a significant consolidated market, it is likely that two-wheeler manufacturers will be looking to capitalize on economies of scale on hardware production.
This means they may upgrade their hardware (along with OBD Stage I and II requirements) in markets around the world, even where the emissions standards are not applicable.
If this happens, it will have a potential to impact motorcycle engine oil performance levels globally.
For more information on emission standards in the motorcycle engine oil market, contact your Lubrizol representative.