This is the second in a series of articles covering marine regulatory drivers and their industry impact
Today's marine industry is directly affected by increasingly rigid environmental regulations, economic uncertainty, geographic shifts and emerging technologies. The continuing evolution of additive technology for fuels and lubricants is enabling these expectations to be met. When combined with innovative ship designs and engine systems, the marine industry will be prepared to adapt to the shifting market conditions.
In October 2016, The International Maritime Organization (IMO) announced the reduction of fuel sulfur content in open seas from 3.5% to 0.5% by 1 January 2020. This legislation comes following the Emission Control Area (ECA) requirements in coastal waters and sea lanes around Europe and North America. In addition, stringent Tier III NOx requirements have been introduced in North American and US Caribbean Sea emission-controlled zones.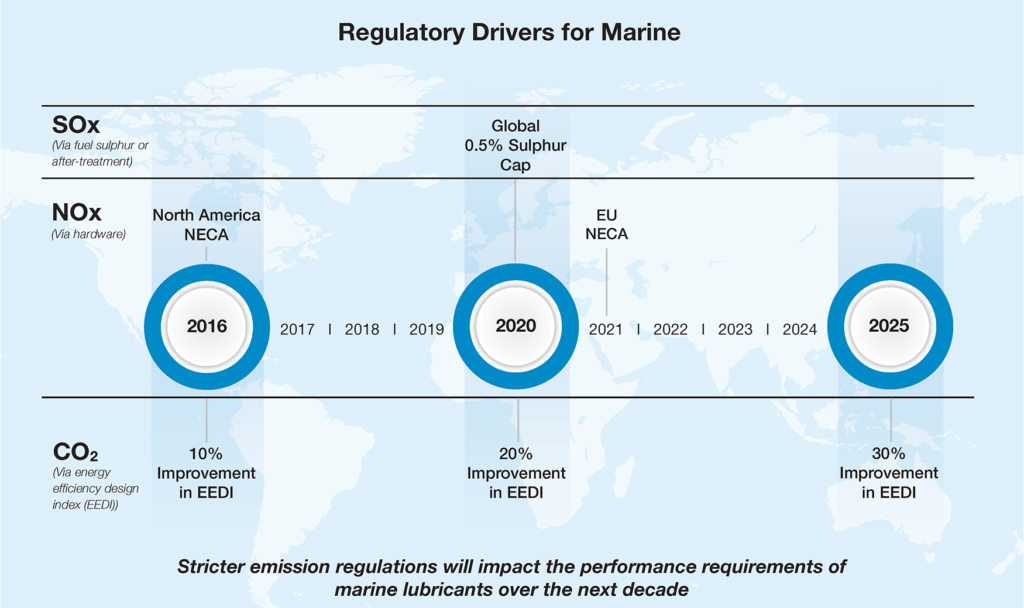 These reductions can have a considerable impact on engine hardware, forcing members of the marine industry to carefully evaluate and select the available fuels and lubricants. It's envisaged that future emission regulations will present further industry challenges.
As a result of the IMO 2020 regulation, the shipping industry will need to consider various compliance strategies:
0.5% sulphur fuel options
Exhaust gas cleaners
Alternate fuels, eg LNG
Each of these present their own challenges in terms of cost, supply, ship installation and infrastructure delivery. A mixture of these options will be adopted within the industry.
In the next article, coming soon, we describe how the ship owners will address the International Maritime Organization (IMO) regulations and its impact on lubricant.
>For more information on Marine lubricants, contact your Lubrizol representative.