The CONEXPO 2017 construction machinery trade fair held in Las Vegas in March has brought a flurry of new models and new technologies to the off-highway market, with fuel economy, emissions minimization and the optimization of the work environment standing out as major technological trends.
Liebherr's new wheeled excavator design brings significant innovation to both the powertrain and control systems. The A198 Litronic is a medium-sized excavator weighing in at around 18 tons and is geared towards normal earthmoving and road construction, as well as drainage and pipeline work. Equipped with Liebherr's own diesel engine and SCR catalyst emission control technology, it is capable of meeting emission stages EPA Tier 4 Final and Euro IV without having to resort to a diesel particulate filter – though Liebherr says this is available as a special order for operators with particular construction site requirements.
The complete system reduces exhaust emissions effectively without any compromise in performance, says the company, and maintenance intervals are also extended thanks to the further development of the engine. "This leads to fewer downtimes, thus increasing the productive working time of the machines," claims Liebherr. "The increased efficiency achieved saves the customer unnecessary costs."
In addition, the Liebherr Power Efficiency program controls all the power management processes to further reduce fuel consumption, intervening in parameters such as engine rpm and hydraulic pump swing angle to optimize efficiency in every set of working conditions.
Caterpillar and John Deere
Caterpillar's new TH514D Telehandler innovates with a load-sensing hydraulic system which helps reduce the load on the pump to save fuel. The variable-displacement, axial-piston pump and flow-sharing valves combine to match pressure and flow to the task at hand, delivering rapid response. The hydraulic system is designed for smooth, consistent, multi-function operation, says Caterpillar, with rapid overall cycle times. Additionally, says the company, a standard auxiliary hydraulic circuit is plumbed to the boom head for powered work tools, and a second front-auxiliary circuit is available.
The transmission is a heavy-duty powershift unit with four forward and three reverse ratios to provide the optimum gearing for each application, while the four-wheel drive system uses heavy-duty axles with planetary-reduction hubs, front limited-slip differential and dual-axle braking. The service brakes are oil-immersed, multi-disc units on both axles.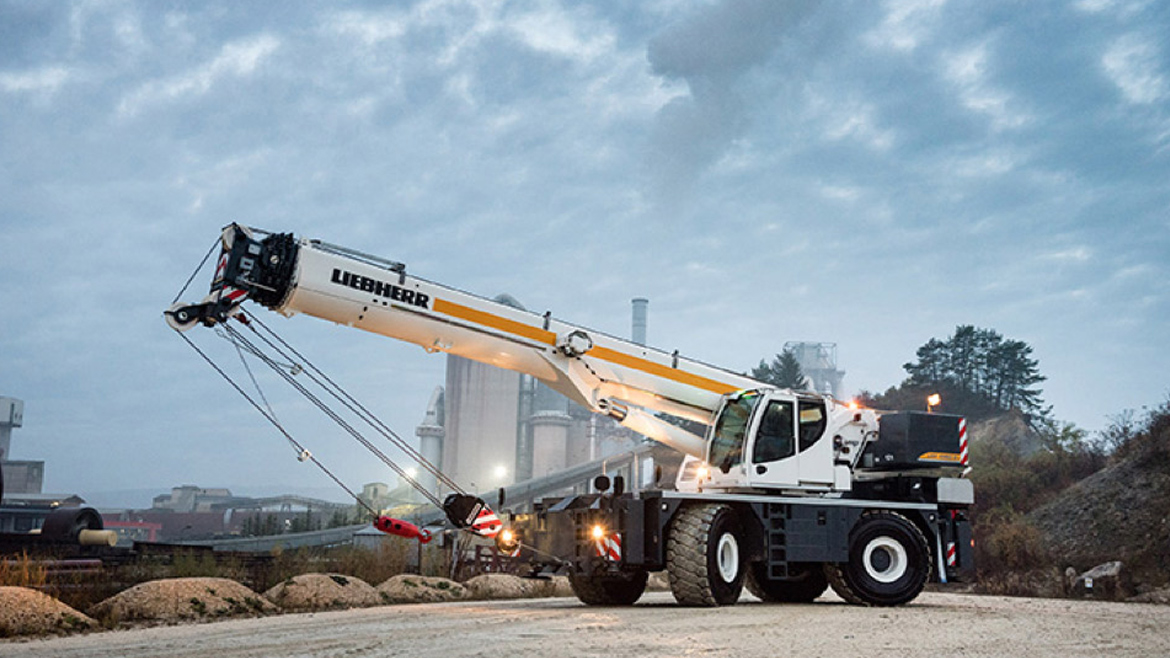 The John Deere 950K crawler dozer also meets EPA Tier 4 Final and Euro Stage IV with its in-house 9.0 liter, 265 hp engine. Its hydrostatic powertrain is claimed to get approximately 15 percent more power to the ground than a conventional torque converter transmission. With the dual-path hydrostatic transmission available in both standard and low ground pressure configurations, Deere says that it allows an operator to "push a full load through turns without losing material, unlike conventional torque converter transmissions on competitor machines."
An Eco mode is able to maximize fuel economy and maintain the desired ground speed by sensing load and automatically adjusting engine speed and transmission settings. This has the potential to reduce fuel consumption by up to 20 percent with no loss of productivity.
The standard-fit electrohydraulic controls built into the 950K make it easy to add a third-party grade control system, says John Deere, and later additions will allow SmartGrade capability as well as a hydraulic power pitch option which enables the driver to control the pitch of the blade from the cab. Pre-set blade positions can also be called up at the press of a button.
Looking much further ahead, John Deere has partnered with premium automaker BMW's California-based think tank, Designworks, to develop concepts for the excavators of the future. With the accent firmly on reducing environmental impact, improving efficiency on the jobsite and boosting safety, the Backhoe of the Future employs a hybrid powertrain, a lightweight metal matrix exoskeleton, electric all-wheel steering and an augmented reality display system to link in to virtual reality training programs.
This novel structure is expected to reduce all-up weight by a minimum of 20 percent and cut fuel use by 10 percent. It will be less expensive to manufacture, too, and the lower center of gravity and improved visibility will help stability and worksite safety. The long wheelbase and forward stabilizers provide a secure operating platform, and novel airless radial tires are claimed to improve stability in transport phases of the duty cycle.
"We wanted to stretch and challenge ourselves to innovate in new ways, and what better platform to showcase this forward-thinking design than at CONEXPO," said Doug Meyer, global director of product engineering, John Deere Construction & Forestry. "We worked closely with our backhoe customers to apply their input to ensure the solutions address future customer and industry needs in performance, efficiency and environmental compliance."
As for the backhoe itself, the arm is manufactured with what BMW says are "intelligent, emerging, lightweight materials." These combine to help reduce dig component weight, which translates directly into increased payload. "A combination of center-mount and side-shift capability delivers versatility, no matter what the application," says Deere, with the implementation of a "tuck" feature "minimizing overall length for better on-road driving experience and a smaller parking footprint."
Overall, John Deere intends for the new backhoe concept and novel BMW-inspired thinking to have a halo effect, with the innovations spreading outward from backhoes into other, different types of machinery.